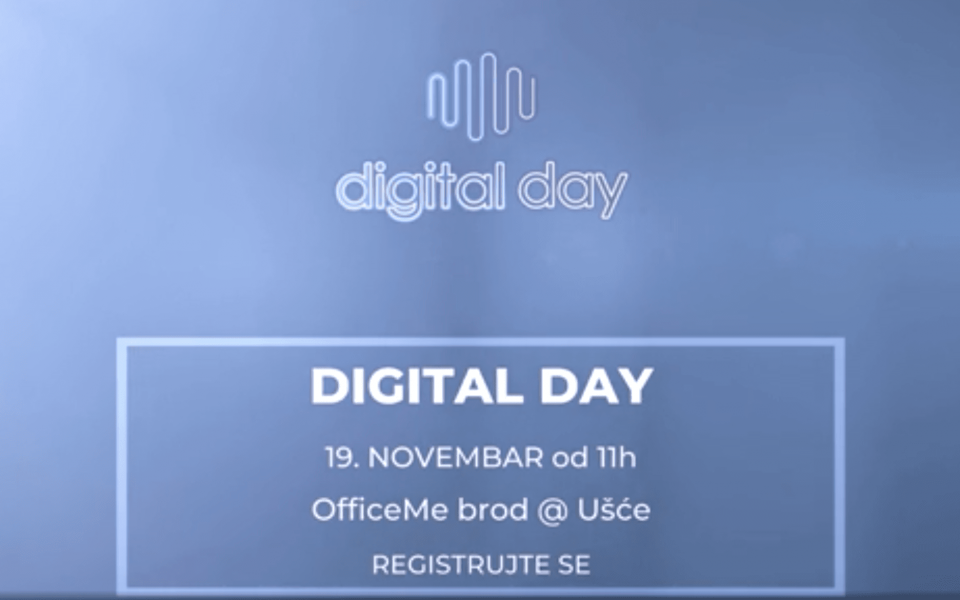 Digital Day 3 – B2B konferencija
Svi najnoviji digitalni trendovi u poslovanju na jednom mestu
B2B Konferencija – Digital river Day / Surf the digital wave
Za objavu 13.11.2019.
Zorana Godošev, marketing menadžer 065-3537-621 zgodosev@algotech.rs
· Poslovna konferencija: Digital river Day / surf the digital wave
· Lokacija: OfficeMe brod na Ušću, Novi Beograd
· Datum i vreme: 19. novembar 2019. od 11 do 16 časova
· Registracija: BESPLATNA na linku https://algotech.rs/digital-day-3/. Broj mesta je ograničen.
[Beograd, Srbija, novembar 2019.] – Kompanija Algotech, organizuje treću po redu poslovnu konferenciju pod nazivom Digital river Day. Konferencija okuplja predstavnike najuticajnijih i najvećih kompanija iz Srbije – banke, telco operatere, predstavnike iz javnog sektora, kao i mala i srednja preduzeća.
Konferencija pod sloganom "Surf the digital wave" je namenjena kompanijama koje prolaze kroz digitalnu transformaciju u poslovanju, te će posetioci imati priliku da se upoznaju sa najnovijim digitalnim trendovima i saznaju kako ih mogu primeniti i unaprediti svoje poslovanje.
Digital Signage je jedan od servisa koji sve više nalazi primenu u domaćim kompanijama, kako onim koji imaju maloprodajne objekte i filijale, tako i za kompanije koje ovaj servis koriste za internu komunikaciju. Pored najnovijih profesionalnih Digital Signage ekrana i totema, posetioci mogu videti i kako funkciniše cloud platforma koja služi za upravljanje sadržajima koji se plasiraju na jedan ili mrežu ekrana.
ESL (Electronic shelf label) ili digitalne cene predstavljaju najnoviji servis koji omogućava kompanijama da na malim ekranima upravljaju svim cenama u maloprodajnom objektu iz cloud-a, kroz svega par klikova.
Kompanija VIP će pričati i predstaviti rezultate koje su ostvarili uveđenjem Digital Signage i ESL rešanja na svojim prodajnim mestima.
Takođe, posetioci će saznati na koji način mogu poboljšati i unaprediti svoju uslugu korišćenjem e-formulara i na taj način izbaciti iz upotrebe papirne formulare.
Novine u svom poslovanju predstaviće i kompanija Avaya koja je svetski lider u razvoju rešenja za poslovnu komunikaciju, dok će kompanija Hyland će predstaviti svoje ECM (enterprise content management) rešenje pod nazivom OnBase. – rešenje koje kompanijama omogućava digitalnu transformaciju poslovanja kroz automatizaciju poslovnih procesa.
Video klip: https://www.youtube.com/watch?v=QRH3z258U28
Foto galerija: https://drive.google.com/drive/u/3/folders/1d65tcOPnFaHUnM8mRmj9WXqFgHCXyoeS
###
O KOMPANIJI ALGOTECH
Algotech је kompanija specijalizovana za dizajn i implementaciju sistema integrisanih komunikacija baziranih na najnaprednijim svetskim rešenjima i tehnologijama. Kompanija je osnovana 1992. godine i kao Algotech grupa uspešno posluje na području Srbije, Mađarske, Češke, Slovačke, Poljske, Rumunije, Bosne i Hercegovine ali je prisutna i na tržištu Crne Gore i Slovenije.
Tokom prethodnih dvadeset sedam godina poslovanja Algotech je postao jedan od vodećih regionalnih sistem integratora. Saradnja sa renomiranim svetskim kompanijama kao što su Avaya, Cisco, Nice, Altitude i mnoge druge, su jedan od ključnih faktora poslovnog uspeha kompanije. Takođe, Algotech se fokusirao i na servise koji omogućavaju kompanijama potpunu digitalnu transformaciju poslovanja kroz digitalizaciju procesa komunikacije, automatizaciju poslovnih procesa i implementaciju drugih naprednih rešenja. Neki od partnera koji doprinose ostvarenju ovakvih ciljeva su Wallboard.info, Vestel, Forcs, Hyland, Brand Embassy i druge.