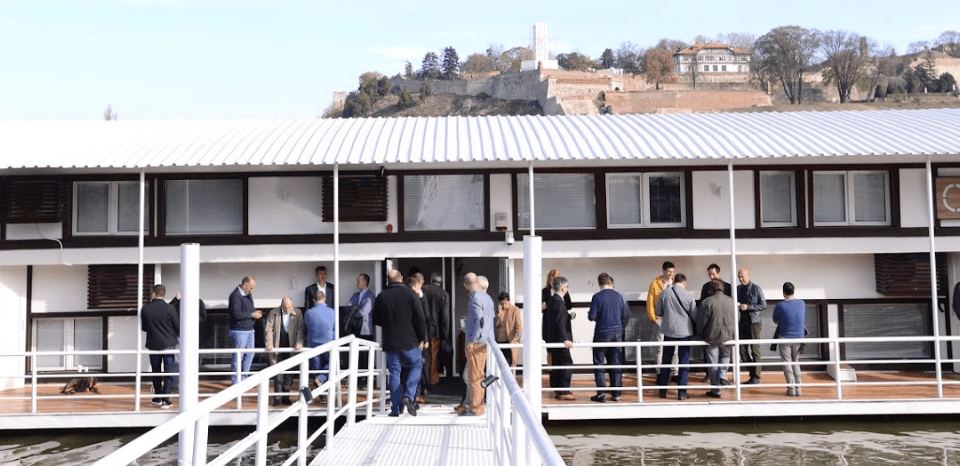 Pogledajte kako je bilo na DIGITAL River DAY konferenciji
Poslednji topao i sunčan dan u novembru obeležila je Digital river Day konferencija, koju je organizovala kompanija Algotech, već treću godinu za redom.
Konferencija se održala u utorak 19.11.2019. sa početkom od 11 časova na Ušću u brodu OfficeMe. Sam ambijent broda, učinio je da konferencija pokaže nešto što se do sada nije viđalo na sličnim okupljanjima. Atmosferu ovog događaja osetilo je preko 180 posetilaca, predstavnika najuticanijih domaćih kompanija iz sektora telekomunikacija, bankarsta i osiguranja, uslužnih delatnosti i velikih brendova.
Nakon registracije, započeo je blok posvećen predstavljanju naših partnera koji su održali kratke, ali vrlo interesantne prezentacije.
Konferencija pod sloganom "Surf the digital wave" je namenjena kompanijama koje prolaze kroz digitalnu transformaciju u poslovanju, te su posetioci imali priliku da se upoznaju sa najnovijim digitalnim trendovima. Takođe, posetioci su uz praktične primere i prezentacije u Demo prostorima saznali kako te trendove mogu primeniti i unaprediti svoje poslovanje.
Digital Signage je jedan od servisa koji sve više nalazi primenu u domaćim kompanijama, kako onim koji imaju maloprodajne objekte i filijale, tako i za kompanije koje ovaj servis koriste za internu komunikaciju. Pored najnovijih profesionalnih Digital Signage ekrana i totema, posetiocima se obratio Robert Simon (CO-CEO kompanije Wallboard) i pokazao na koji način funkciniše cloud platforma koja služi za upravljanje sadržajima koji se plasiraju na jedan ili mrežu ekrana.
ESL (Electronic shelf label) ili digitalne cene predstavljaju najnoviji servis koji omogućava kompanijama da na malim ekranima upravljaju svim cenama u maloprodajnom objektu iz cloud-a, kroz svega par klikova. Prisutnima se sa sjajnom prezentacijom obratio Endre Ori (General Manger iz AISS Technologies Ltd).
Putem video poruke, obratio nam se Mickey Park (VP of Global Sales, kompanije Forcs), a posetioci su saznali na koji način mogu poboljšati i ubrzati svoju uslugu korišćenjem e-formulara i na taj način izbaciti iz upotrebe papirne formulare.
Novine u svom poslovanju predstavio je Francesco Screto (Sales Specialist – UC&Collaboration, koji dolazi iz kompanije Avaya) i još jednom pokazao zašto je Avaya svetski lider u razvoju rešenja za poslovnu komunikaciju.
André Winkelmann (Territory Manager kompanija Hyland) predstavio je ECM rešenje pod nazivom OnBase – rešenje koje kompanijama omogućava digitalnu transformaciju poslovanja kroz automatizaciju poslovnih procesa.
Fotogaleriju sa Digital River Day konferencije možete pronaći na sledećem linku: https://drive.google.com/open?id=1DZc3AfK7ZYpPE14ZfCXsvr0hDw7JdrYM