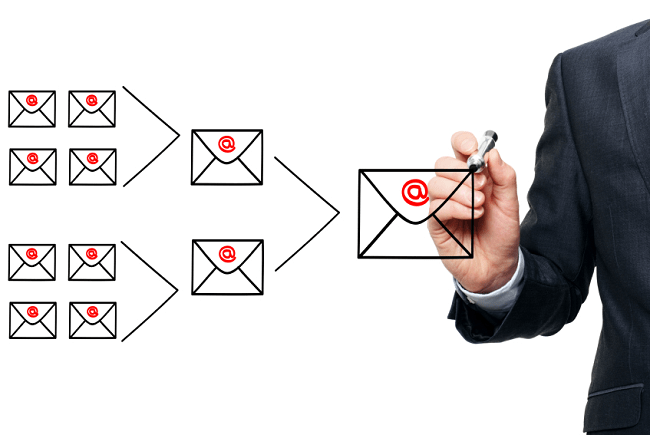 Kako automatizovani marketing može poboljšati personalizaciju email poruka
Kada pomislite da je nešto automatizovano, verovatno zamišljate kako neka mašina ima kontrolu nad nekim procesom, sa svom svojom hladnoćom i metalnom sterilnošću koju ta reč podrazumeva. Ono što se često zaboravlja je da su svi ti automatizovani, robotski procesi, izrađeni i izgrađeni od strane ljudi koji su njihovim izradom i implementacijom želeli da povećaju efikasnost nekih procesa.
Reč automatski je postala sinonim za ne-personalizovani pristup, iako između ova dva pojma nikako ne može stajati znak jednakosti, pogotovo kada je reč o domenu komunikacija. E-mail koji dobijete, na primer, je verovatno daleko personalizovaniji nego fizička pošiljka koju ste primili kroz tradicionalnu pošte, poput flajera, kupona i reklamnih pisma – koji su posledica masovne štampe i u najvećem broju slučajeva ne sadrže gotovo nikakvu personalizaciju i prilagođenje pojedinačnim primaocima.
U stvari, savremenu email komunikaciju je lakše nego ikada prilagoditi i personalizovati, jer smo došli do tehnološke tačke na kojoj više nije ni potrebno ručno menjati nazive, imena ili poruke ako šaljete istu komunikaciju različitim ljudima. S automatizacijom marketinga, možete iskoristiti sve prethodno prikupljene podatke za personalno prilagođavanje svakog poslatog emaila krajnjem primaocu i to bez dodatnog napora s vaše strane.
Ovaj koncept nije samo ograničen na zamenu uobičajenih polja (ime, prezime i sl), već kroz korišćenje uslovnog formatiranja, možete stvoriti niz prilagođenih e-mailova za određenu osobu ili osobe na osnovu njihovih poznatih podataka, ali i sklonosti i želja. Ovo samo dokazuje da su nas, u današnje vreme, mogućnosti personalizacije korišćenjem automatizovanih marketing rešenja daleko odvele od vremena masovnih generičkih emailova. Umesto da se samo izabere email adresa iz naše liste i šalje generički email, svaki e-mail pojedinačno se generiše za određenu osobu.
S obzirom da automatizacija može promeniti sadržaj poruka da bolje adresira i odražava interese pojedinca koji poruku prima i to na osnovu neograničenog broja faktora, jedini bolji način da se preciznije prilagodi komunikacija svakom individualno bi bila da se svaki email napise ručno i pojedinačno za svaku osobu, što je, u najboljem slučaju, dugotrajan i mukotrpan posao. Zato je mnogo efikasniji pristup korišćenje automatizovanog marketinga, a to vam omogućava da više vremena provedete da koncipirate poruku s naglaskom na ono što je, zaista, najviše bitno u njoj.
Kroz korišćenje uslovnog formatiranja, prilagođavanja poruka na osnovu akcija koje je korisnik preduzeo kao i istoriski zabeleženih interesovanja, cloud rešenje za automatizaciju marketinga Total Marketing pruža mogućnost pripreme i podešavanja, na bezbroj načina, bilo koje komunikacije ka bilo kom vašem korisniku i to kroz korišćenje više od 15 komunikacijskih alata. Uživajte u efikasnosti komunikacije, bez gubitka personalne note koju vaši korisnici i očekuju. Ukoliko još ne koristite sve mogućnosti automatizovanog marketinga, počnite odmah! Prijavite se i isprobajte besplatno 14 dana Total Marketing platformu.