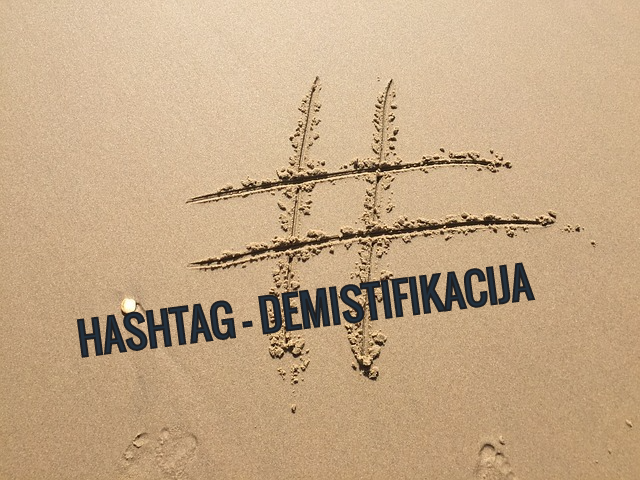 Koristite li haštagove (hashtag)?
Šta je i čemu služi haštag?
Haštag je specifično napisana reč ili skup reči koja služi da grupiše poruke (npr na Twitter-u ili Facebook-u) i poveže ih sa nekom konkretnom temom. Suština haštaga je povezivanje poruka različitih korisnika koje su vezane za istu temu. Kako bi ste npr. na tviteru pogledali sve teme koje su vezane za Beograd, u pretragu ukucajte #beograd, ili ako vas zanimaju teme vezane za izbore, probajte sa #izbori ili #izbori2016.
Haštag se piše sa znakom "#" na početku i potom jednom ili više reči napisanih bez razmaka. Evo nekoliko primera: "#partizan", "#crvenazvezda", "#srecan8mart". Nije loše pridržavati se nekoliko nepisanih pravila:
Poželjno je da haštagovi ne budu predugački. Idealno je do 15 slova
Ukoliko se haštag sastoji od više reči, nije loše da početak svake reči napišete velikim slovom. Na sledećem primeru kako vam se čini razlika između #srecnanovagodina i #SrecnaNovaGodina? Naravno, mnogo lakše je pročitati drugi haštag. Takođe ne zaboravite da kad pišete haštag, slobodno zaboravite na razmak između reči, jer svaki razmak označava i kraj haštaga.
Nije preporučljivo uz neki post postaviti gomilu polurelevantnih haštagova. Bolje se fokusirajte samo na bitne.
Ako želite da u moru postova i poruka koje korisnici društvenih mreža postavljaju svakodnevno, neko pronađe baš vašu, pomozite mu tako što ćete vaše postove markirati određenim haštagovima. To je i način da pronađete populaciju koju zanimaju slične teme koje su i vama interesantne. Uz to naravno možete dodati i svoja osećanja koja možete izraziti pomoću tzv. smajlija i znakova poput like, dislike i slično.
Kada koristite haštagove, posebno ako to činite u marketinške svrhe radi promocije svoje kompanije ili brenda, potrebno je da dobro razumete njihovu implikaciju, a potom i odaberete one koji će vam biti od naveće koristi za temu koju obrađujete. U suprotnom nećete postići željeni efekat.
Upoznajte se poznate sa svim aspektima u vezi haštagova i njihove pravilne upotrebe. Pogledajte video kurs koji smo za vas pripremili i koji traje svega 45 minuta, ali će vam objasniti sve što je neophodno da znate o haštagovima. Kurs je na engleskom, a teme koje obrađuje su prikazane na slici ispod.
Video kurs o haštagovima je besplatan, potrebno je samo da se registrujete i dobijate pristup kompletnom kursu. Kliknite na sliku iznad ili ovde da pogledate kurs!