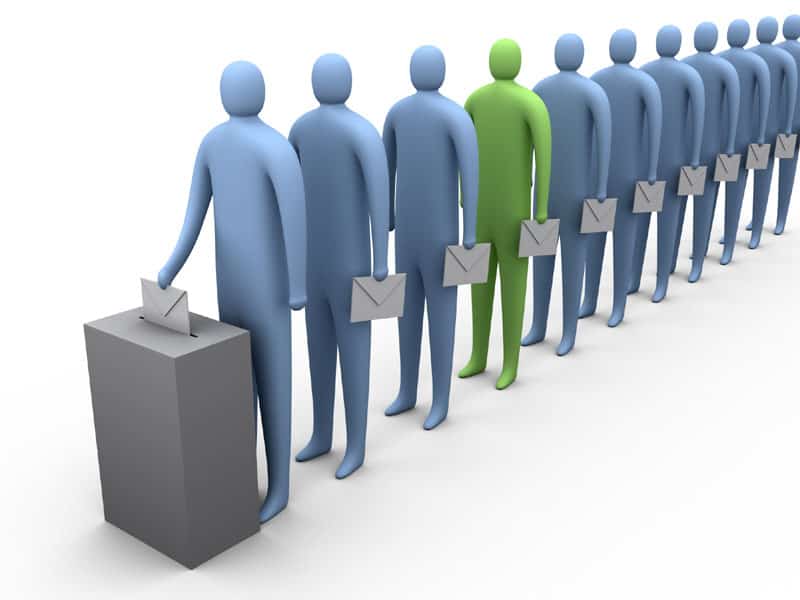 Povećajte lojalnost, angažovanje i odziv glasača – Politički marketing u predizbornoj kampanji
Pročitajte šest jednostavnih koraka kako biste povećali lojalnost, angažovanje i odziv glasača u predizbornoj kampanji. Savremeni način komunikacije sa glasačima u političkom marketingu!
Izazov:

Koristite savremene načine "aktivacije" glasača.
Povežite se sa glasačima na nove, efikasnije načine od tradicionalnih letaka, TV spotova i telefonskih anketa.
Rešenje:
Dobiti poverenje glasača pomoću personalizovane komunikacije.
Izgradite snažnije odnose sa glasačima putem personalizovanog sadržaja na željenom kanalu (e-mail, SMS).
Upravo Vam Total Marketing platforma može pomoći da premostite sve izazove prilikom vođenja predizborne kampanje, ali i da vrlo jednostavno primenite svih 6 koraka iz donjeg primera. Pogledajte video o Total Marketing platformi i saznajte kako.
Koraci do uspeha:
Korak 1: Napravite jednostavan način za brigu o glasačima za par minuta
Kreirajte opšti postupak prijave i obrade pomoću Total Marketing 360 drag-and-drop alata. Možete kontaktirati svoje glasače pomoću različitih načina komunikacije, kao što su SMS i e-pošta. Glasači mogu odrediti svoj preferirani način komunikacije, pa tako dobijaju informacije u obliku koji njima odgovara.
Korak 2: Profil svakog pojedinačnog glasača
Glasač ispunjava web obrazac koji prikuplja sve relevantne informacije. On sam bira određene teme na obrascu za prijavu kako bi naznačio koje oblasti su njemu interesantne. Informacije o glasačima se unose i čuvaju u CRM-u. CRM započinje sa izgradnjom ličnog profila za svakog glasača tako da će oni ubuduće primati relevantne poruke.
Korak 3: "Angažujte" glasače relevantnim, prikladnim sadržajem
Čim glasač popuni svoje podatke, dobija poruku dobrodošlice. Poruka se šalje preko kanala koji je izabrao prilikom popunjavanja formulara za prijavu (e-mail ili SMS). To će osigurati da poruka bude relevanta za svakog primaoca i znatno povećava verovatnoću da će ista biti pročitana umesto ignorisana.
Korak 4: Povećajte lojalnost sa personalizovanim sadržajem
Što više glasača bude reagovalo na vaše poruke, vi ćete saznati više o tome šta ih zanima. Za svakog glasača to će predstavljati kreiranje njegovog ličnog profila. Glasači će dalje primati ciljane poruke na bazi njihovih interesovanja i interakcija, uključujući biltene, digitalne letke, kampanje prikupljanja sredstava, obaveštenja o političkim skupovima. Prilagođene poruke pomažu u izgradnji odnosa sa vašim glasačima i na taj način povećavaju njihovu lojalnost i poverenje.
Korak 5: Saznajte koji sadržaji interesuju pojedine glasače
Svaki glasač ima svoj lični profil. Istovremeno, sve informacije o reakciji na poruke se prate i o tome se kreiraju izveštaji. Jednostavno možete A/B testirati različite poruke da biste videli koje poruke su bolje primljene na strani glasača tj. na koje poruke je bolji odziv. Sve te informacije pomažu vam da optimizujete komunikaciju prema glasačima, i pomaže vam da se fokusirate na poruke na koje oni najbolje reaguju.
Korak 6: Povećajte odaziv glasača sa podsetnicima
Automatski podsetnici šalju se svim glasačima kako se približava izborni dan, a sve u svrhu da se osigura veća izlaznost, a samim tim i siguran glas. SMS poruke su posebno efikasne za podsetnike, jer se gotovo uvek otvaraju i čitaju u okviru pet minuta od primanja poruke.