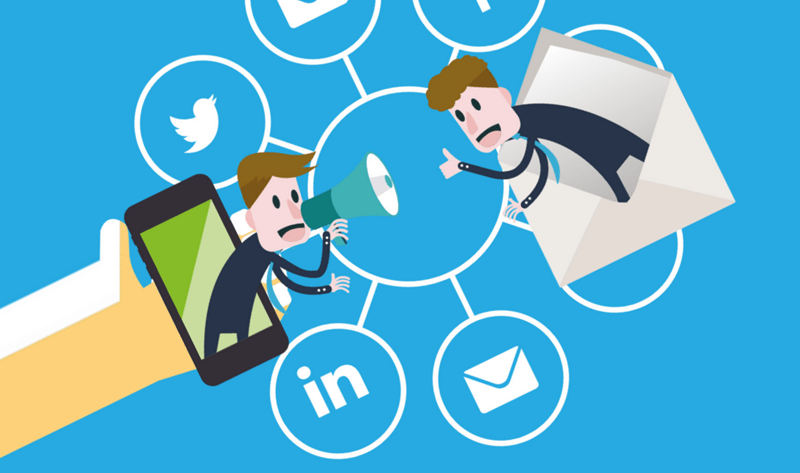 Email marketing u doba društvenih mreža
Šta je bolje: email marketing ili društvene mreže? U ovom tekstu možete pročitati zašto ne treba da birate izmedju jednog ili drugog; vaš email marketing i aktivnost na društvenim mrežama treba da budu usko povezani.
Kao što znate, društvene mreže su dostigle toliki razvoj, da više ne predstavljaju samo platformu na kojoj se postavljaju slike i dele statusi iz svakodnevnog života. U isto vreme, email marketing beleži odlične rezultate i dostiže najveći ROI od svih ostalih kanala komunikacije.
I Email marketing i društveme mreže imaju svoje prednosti i benefite i vaš zadatak mora biti kako da napravite strategiju gde funkcionišu zajedno, a ne da date prioritet jednom kanalu u odnosu na drugi.
Email VS Društvene mreže
Društvene mreže se oslanjaju na emailove prilikom odredjenih radnji, kao što su slanje poruke dobrodošlice prilikom registracije ili verifikacinog maila ili pak emaila putem koga možete resetovati svoju zaboravljenu lozinku. Takodje, poznato je da vam je za registraciju na društvenim mrežama potrebna email adresa.
Da li znate da na svetu postoji više od 2.6 milijardi email korisnika širom sveta, skoro dva puta više nego dnevnih aktivnih korisnika Twittera i Facebooka zajedno. To je posebna prilika za sve koju treba iskoristiti za povećanje saobraćaja i prihoda. Takodje, zanimljiva činjenica je da email donosi 40 puta više kupaca nego Facebook i Twitter.
Najveća razlika izmedju slanja emailova i postavljanja postova na društvene mreže je da korisnici na vašoj email listi mogu odreagovati na vaš email samo ukoliko se nadje u njihovom inboxu, dok se prilikom pisanja posta ili tweetovanja trudite da pogodite pravo vreme radi dobijanja maksimalnog efekta.
Ukoliko vam je potrebno slanje Email poruka, kontaktirajte nas!
Prednosti društvenih mreža
Kada su u pitanju društvene mreže, morate ih posmatrati kao kanal gde treba da pokažete svoju kreativnost, gde treba da putete originalni, zanimljivi i da plasirate kratku i jasnu poruku svojim korisnicima, a ne da vam cilj bude da zamenite kanal kao što je email.
Da li se sećate MySpace društveme mreže? Ona je dokaz da i najpopularnija društvena mreža može postati nebitna za par godina.
Dok društvene mreže imaju svoje uspone i padove, nesporivo je da su donele revoluciju u marketingu i što je najvažnije vrlo ih je lako povezati sa email marketingom.
Možete koristiti društvene mreže da plasirate vašu poruku velikom broju publike i da preciznije targetirate korisnike, a nakon toga upotrebite email da biste uspostavili direktniji odnos sa onima koji su se prijavili za dobijanje više vaših sadržaja.
Fokusirajte se na oba kanala
Korišćenje oba marketing kanala može biti težak poduhvat, ali morate shvatiti da je izmedju email marketinga i društvenih mreža neraskidiva veza.
U njihovu korist ide i to da su oba kanala vrlo prisupačna, a pri tome daju odlične rezultate.
Potrebno je da osmislite strategiju koja će maksimalo iskoristiti prednosti ova dva kanala. Samo tako ćete postići odlične rezultate u svakoj kampanji i interakciji sa svojim korisnicima.