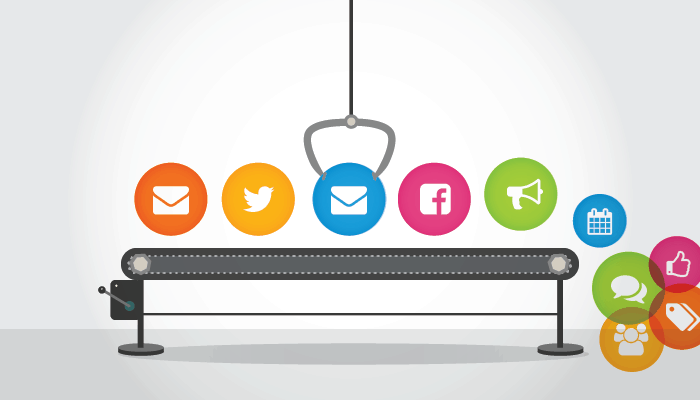 Šta je automatizovani marketing?
Da li ste se ikada pitali kako možete biti sigurni da vi i vaš prodajni tim sa sigurnošću identifikuju ključne korisnike, koji dolaze na vaš web site, a koji će na kraju postati kupci? Da li ste čuli da drugi pričaju o softveru koji vam može pomoći, ali i postavljenom pitanju, "Šta je marketing automatizacija?"
Možda mislite da automatizovani marketing ne donosi rezultate? Ili pak oduzima suviše vremena, ili prosto ne znate odakle da počnete?
Naš savet: Počnite iz početka
Vratimo se jedan korak unazad i počnimo iz početka. Prvo, hajde da identifikujemo najveće prepreke. Vi i Vaš tim se najverovatnije susrećete sa sledećim problemima:
– Nemate dovoljno kvalitetnih korisnika
– Ne možete lako klasifikovati korisnike
– Ne možete lako graditi odnos sa korisnicima
– Velike razlike u strategiji praćenja korisnika
– Ne možete identifikovati problematične procese
– Ne znate koja strategija donosi najbolje rezultate
– Zatvaranje prodaje
Da vidimo šta sve ovo gore navedeno znači? To znači da je samo 27% korisnika koji se šalju direktno na tim prodavaca kvalifikovano, odnosno spremno za kupovinu vaših proizvoda ili usluga.
Šta vi možete da uradite da biste slali više kvalifikovanih korisnika timu prodavaca? Odgovor je AUTOMATIZOVANI MARKETING.
ŠTA JE Automatizacija marketinga?
Automatizacija marketinga je skup alata koji omogućava kompanijama:
– Prikupljanje više korisnika, tako što ćete identifikovati anonimne posetioce vašeg vebsajta pomoću web forme
– Graditi odnos sa korisnicima tako što ćete im slati personalizovane poruke
– Povećanje prodaje, tako što ćete brže identifikovati korisnike koji su spremni za kupovinu
– Poboljšanje cross prodaje
– Analiza svake strategije radi utvrdjivanja ROI.
Rešenje za marketing
Koristeći automatizovani marketing, vi i vaš prodajni tim može da prevazidje sve probleme i prepreke. Omogućava vam da uradite sledeće:
– Poboljšati posetu sajtu tako što ćete prikupljati korisnike pomoću interesantnog i korisnog sadržaja
– Pomoću ocenjivanja korisnika, možete brzo i lako identifikovati one koji su spremni za kupovinu
– Raditi na razvoju odnosa sa korisnicima koji nisu spremni za kupovinu u cilju da ih prebacite u kategoriju onih koji su pred samom kupovinom
– Momentalno obavestiti prodavca o korisniku koji je spreman za kupovinu
– Saznate koja taktika donosi najbolji ROI
TO JE TO! Rezime što marketinga automatizacija i kako se može da vam pomogne.
Kontaktirajte nas ako želite da saznate više o automatizovanom marketingu i kako može da vam pomogne u poboljšanju poslovanja.